Fitness
The fitness industry is booming and with each fitness center carving out it's own niche it is important to communicate with your guest. Clearly displaying what a fitness center has to offer is easy, use digital signage. Our digital signage solution is perfect for the fitness industry on all levels. With many solutions that will help guests feel more informed and excited. Keep your guests wanting to come back with class schedules, entertainment, upcoming specials, or other informational messaging. Below is a small list where digital signage can help or is applicable in the fitness industry.
Digital signage for your industry:
Communicate With Guests
Upcoming Events
Instructor Profiles
Class Schedule
Entertainment
Informational
Our digital signage software solution is perfect and adaptable to all industries. We made it simple and easy to use so you can focus on your business. Work with our creative experts to create Custom Content and Smart Content™ which will help customize your digital signage for your industry. A true digital signage solution that is perfect for all industries ranging from education, restaurants, stadiums and more.
Be a digital pioneer in your industry. Contact us today to Rethink Digital® and get your business moving forward with our digital signage solution.
Don't see your industry offered? That's okay, contact us today and let's start the conversation.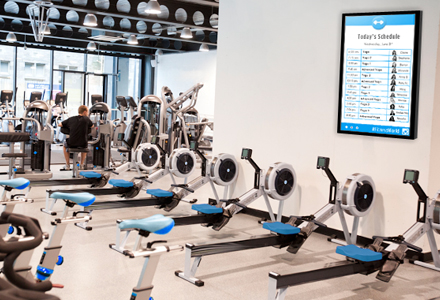 Related Creative Content –
Industry

Application

The digital signage industry is evolving the way we do business. It's changing how people order in restaurants, shop in retail and how people interact with everyday entertainment. Find your industry below to get an in depth look at cutting edge trends and how they can i$