Convenience Store
The addition of digital signage in convenience stores is a great way to let customers know what's on sale. From cross promotions, traffic updates, sales items and more. Digital signage is a great way to communicate with customers. Highlight items with a Product Rotator or utilize some of our Smart Content™ and keep customers informed. Below is a small list where digital signage can help or is applicable in the convenience store industry.
Digital signage for your industry:
Checkout Area
Cross Promotions & Selling
Beverages
Entrance Area
Entertainment
Social Media
Our digital signage software solution is perfect and adaptable to all industries. We made it simple and easy to use so you can focus on your business. Work with our creative experts to create Custom Content and Smart Content™ which will help customize your digital signage for your industry. A true digital signage solution that is perfect for all industries ranging from education, restaurants, stadiums and more.
Be a digital pioneer in your industry. Contact us today to Rethink Digital® and get your business moving forward with our digital signage solution.
Don't see your industry offered? That's okay, contact us today and let's start the conversation.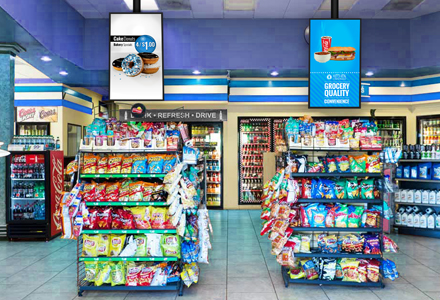 Related Creative Content –
Industry

Application

The digital signage industry is evolving the way we do business. It's changing how people order in restaurants, shop in retail and how people interact with everyday entertainment. Find your industry below to get an in depth look at cutting edge trends and how they can i$